Welcome to the Big Sky Wiki!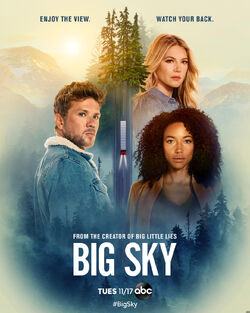 Big Sky is a procedural drama television series that follows private detectives Cassie Dewell and Cody Hoyt, who teamed up with Jenny Hoyt, Cody's estranged wife and ex-cop, in order to find two sisters who have been kidnapped on a remote highway in Montana. When they discover that the sisters aren't the only young women to have vanished in the area, their race against the clock to stop the killer begins.
Created by David E. Kelley, who will also write multiple episodes and serve as showrunner in the premiere season, the show is and based on the 2013 novel The Highway by C. J. Box and stars Kylie Bunbury and Ryan Phillippe as the detectives while Katheryn Winnick brings Jenny to life.
The series currently airs on Thursday at 10:00PM/9:00PM on ABC.
Big Sky Wiki is a collaborative community where we aim to keep track of everything relating to Big Sky: characters, episodes, events, locations, and more. We currently have a total of 349 pages.
We also have a place for getting to know each other and to talk about Big Sky in our Discussions. Whether you are here to start editing or to chat with fellow users, you are welcome to sign up for an account!
Need help building out this community?
You can also be part of the larger Fandom family of communities. Visit Fandom's Community Central